Raider Kid and the Ruby Chest
Hello explorers! Today is the last day of 2021, another challenging year of remote work and celebrations, although things have finally started to go back to normal thanks to the vaccines and to the heroic effort of many healthcare workers.
For the game, we continued the development slowly and steadily, so next year it'll be finished for sure, but not in early 2022 as we announced. There's a lot of changes coming to our personal lives (like moving to another country), so it's hard to set a final date for the release. Please be patient with us!
I've listed the features we completed this year. I'm really impressed by how much we achieved considering we basically just worked on this project 4h a week!
We completely implemented 3 boss battles: all the assets, attack patterns, music/sfx and a lot of testing. One of them was a huge task and required a lot of iteration, specially on the design side.
Ending sequence: a lot of art/music work!
4 new enemies and 1 mid-boss fight.
Tweaks on many background tiles to make environments more lively, diverse and memorable.
Alpha released on Steam and sent for feedback (thanks, testers!)
Optional items such as the dowsing pendulum, the secret plates and a few others related to late-game exploration.
Secret area: a full new area with an interesting twist, Pedro did an amazing work figuring out the puzzles here!
Several adjustments on the menu navigation, including the creation of a new page for the secret plates.
8 new original songs and tons of SFX made by Passos. The quality and sheer amount of tracks Raider Kid currently has is pretty amazing, it is way more than what we initially imagined and we are super happy to have this much variety!
One bazillion bugs fixed and a few others introduced :S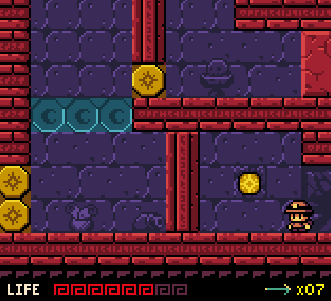 Here's an environment that hasn't appeared in screenshots so far. Can you guess what this place is?
Here are the things that we still need to do before releasing the game:
Finishing late-game secret content & ending (about 50% done!)
A couple new enemy types
Credits
Achievements
Some polishes in input and controls to make the game more comfortable and accessible. Fabio is now aware of how hard it is to implement reliable, cross platform controls even with a fully featured game engine such as Unity
Final level design revisions and bug fixes
Quality of life features.
Passos has been working hard on the sound design, and we're super hyped about the music in the game, so as a New Years gift we're sharing with you another song today!
Well that's it! Looking forward to 2022! Wishing you all some very sweet holidays and a Happy New Year! Cheers!

Get Raider Kid and the Ruby Chest